Shipdex says "see you soon" to Japan
Shipdex Committee has just returned from a very successful trip in Japan last April.
The purpose was to introduce the Shipdex Protocol to the local Ship-owners, Ship-yards and Manufacturers, and this has brought important contacts and an interesting basis for future collaborative projects.
From April 16th – 20th, the Committee met important Companies, like MOL, K-Line, Onomichi Dockyard, Universal Shipbuilding and Mitsui Engineering & Shipbuilding.
The appointment with Japan Sea Exhibition (during which the Shipdex Committee gave a conference on the benefits of the Shipdex Protocol) ended the intense week of meetings.
The Conference was opened by Mr. Giancarlo Coletta (Shipdex chairman and Grimaldi Group Purchase Director), who introduced the reasons why Shipdex has been created and made available to all the shipping operators from the ship-owner point of view. He explained all the reasons why a shipping company should adopt Shipdex as their technical publications standard for manuals.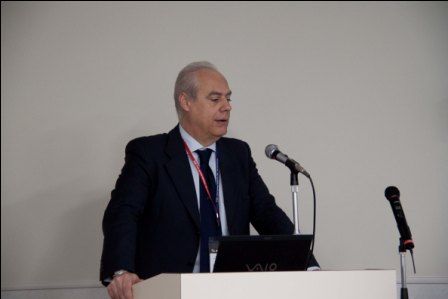 Mr. Giancarlo Coletta
A more technical description of the Shipdex Protocol was given by Mr. Marco Vatteroni (Shipdex author – Technical Manager and SpecTec Group ILS Manager), who then introduced some successful Case Histories and gave updates on the status of the current projects. The samples gave the audience an overlook of the practical benefits of adopting such standards to produce technical manuals, as Mrs. Eva-Lisa Martinsson from Mac Gregor Cranes (Cargotec Group) explained.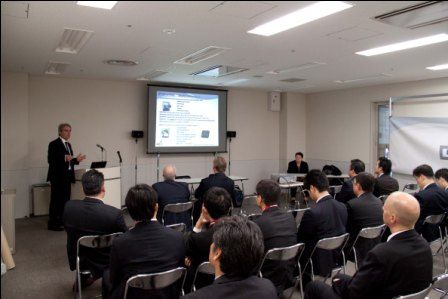 Mr. Marco Vatteroni
The conference has attracted wide interest, so that the Shipdex Committee is planning to give a 1-day technical seminar in Japan before the end of summer 2012.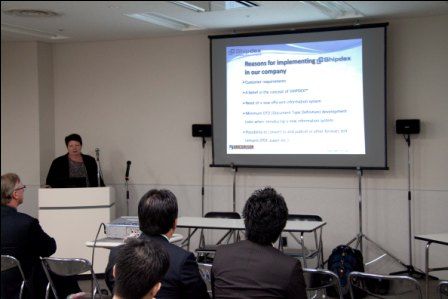 Mrs. Eva-Lisa Martinsson
"Based on the interesting success in Europe and in Korea (where 2 important projects are already in progress) Shipdex Steering Committee decided to "export" this interest to Japan," says Mr. Marco Vatteroni, "During the 'Tokyo week' we had face-to-face meetings with very important Japanese shipyards and ship-owners. Following the Shipdex Conference at Sea Japan in Tokyo we also had many meetings with the most important exhibitors and we always found them interested to understand the most important concepts behind Shipdex and, above all, to have a clear vision of the advantages made available by Shipdex. For this reason we are now planning some more promotional activities in Japan, including a 1-day technical seminar open to all companies/organizations that are interested in adopting Shipdex as their standardized technical documentation format."