Shipdex Continues Its Efforts to Propel the Maritime Industry into the 21st Century
Shipdex Co-founder and Secretary General Marco Vatteroni and MAN Energy Solutions' Shipdex Competence Center Leader Henrik Dan Kaspersen attended the 4th CSN Cyprus Shipping ICT Conference held in Limassol on 12th October 2023.
The main theme of the Conference was "Exploring the Digital Frontier: Bridging Theory and Practicality in Maritime Technology".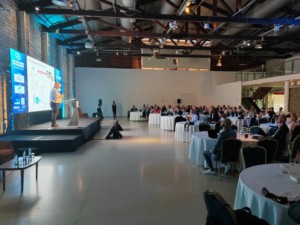 Mr. Kaspersen introduced the Shipdex Protocol explaining its main scope since its foundation on 2008: a protocol to standardize the production and the exchange of equipment electronic technical data from Manufacturers to Customers and now also to exchange in-service data feedback from Customers to Manufacturers.
Mr. Kaspersen also gave a clear evidence of MAN ES involvement in Shipdex non-profit organization confirming that "600+ 2-stroke & 4-stroke engines, GenSets, Propellers and Turbo chargers have already received Shipdex data from MAN Energy Solutions."
Henrik also presented the following interesting proposal from MAN ES:
–  IT companies may receive a FREE data set to evaluate the feasibility of mapping to the PMS database
–  Ship-owners may receive a FREE data set to compare direct PMS import to the current processes
 Mr. Vatteroni participated in a panel whose scope was to answer the following questions "Is Artificial Intelligence (AI) the next Transformation in Maritime? Can be used to transform the way businesses operate and realise their goals?"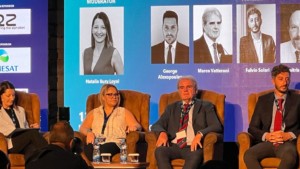 Mr. Vatteroni shortly explained that, in his opinion, the whole Shipdex process could be empowered utilising Artificial Intelligence algorithms.
Those algorithms could be used to retrieve technical information from manufacturers engineering databases necessary to build "automatically" Shipdex datasets for every equipment. Then, other AI algorithms could be developed to navigate through huge Shipdex databases to retrieve, re-organize and assemble technical data to be moved into other important data domains as Digital Twin and/or Autonomous Ship always ensuring a full coherence with source data coming from manufacturers (technical manuals) and from customers (in-service data feedback).
Mr. Vatteroni and Mr. Kaspersen will also attend the 2nd CSN ICT Conference in Athens on 22nd November 2023.